BEST in the Industry – Geekvape won 6 awards at Ecigclick Awards 2021!
By Geekvape
On December 15, 2021, GEEKVAPE won six awards at the Ecigclick Awards 2021 hosted by Ecigclick, a leading vape website in UK. GEEKVAPE has taken home nearly all of the most prestigious prizes at the Awards, completely sweeping the board.
The Ecigclick Awards is one of the most authoritative and influential awards of the industry around the world. Over 200 major vape brands compete in this Awards, and the winners among which are voted by over 100,000 mainstream users from North America, Europe including UK, and other regions around the globe, making it one of the most important events of the year in the industry.
GEEKVAPE has been awarded six times in the Awards, including Best Vape Pen, Best Overall, Best Pod System, Best Sub Ohm Tank, Best Vape Kit, and Best Tank, which came close to winning all the prizes covering Vape Pod, Vape Mod, Atomizer, and other categories, demonstrating the brand's diverse product lineup and global influence.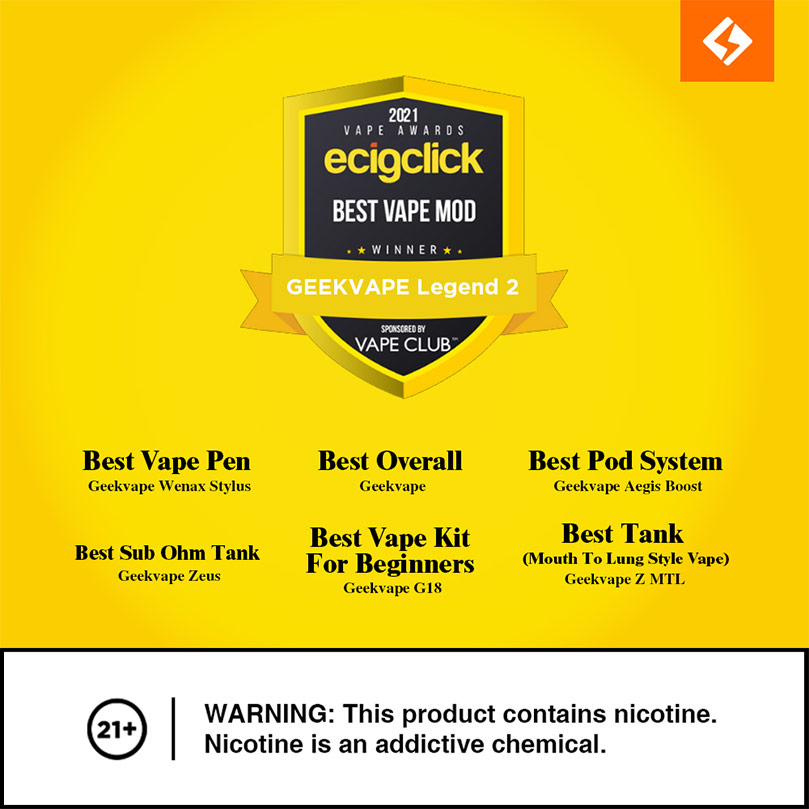 Never losing sight of its original purpose, GEEKVAPE has always adhered to a development concept of "User + Technology" and has been taking the steps in the innovation within a variety of multi-dimensional areas such as techniques, brand, and product, to achieve the ultimate experience and aesthetically appealing e-cig artwork, garnering universal acclaim from users around the world. It must be stated that winning a series of honors at the Awards during this period including 'Best Overall' and 'Best Tank', perfectly embodies that GEEKVAPE is the BEST in the industry and truly a global leading vape brand!