Geekvape E100 – Aegis Eteno, the Eternal Choice Once You Try.
By Geekvape
Aegis E100 Eteno Pod Mod Kit is the latest Geekvape pod mod and bound to become one of the best pod mod vape in the market. is equipped with a leak-proof pod with top ventilation, and it has an IP68 durability rating. It is both powerful and pocket-sized, ideal for sub ohm vaping on the go. The device itself is water, dust, shock and leak-resistant, making it a good option for vapers looking for a durable vape. It has two versions that offers different power support solutions – external 18650 battery version and built-in 3000mAh battery version. Both versions support lengthy sessions of vaping and is also capable of a 100W output for DTL (Direct to Lung) vaping. The Geekvape E100 pod is included, and the kit also comes with two Geekvape P Series coils to help get you started. Also powered by AS-Chip 3.0, it provides excellent performance. Try Eteno and experience eternal amusement!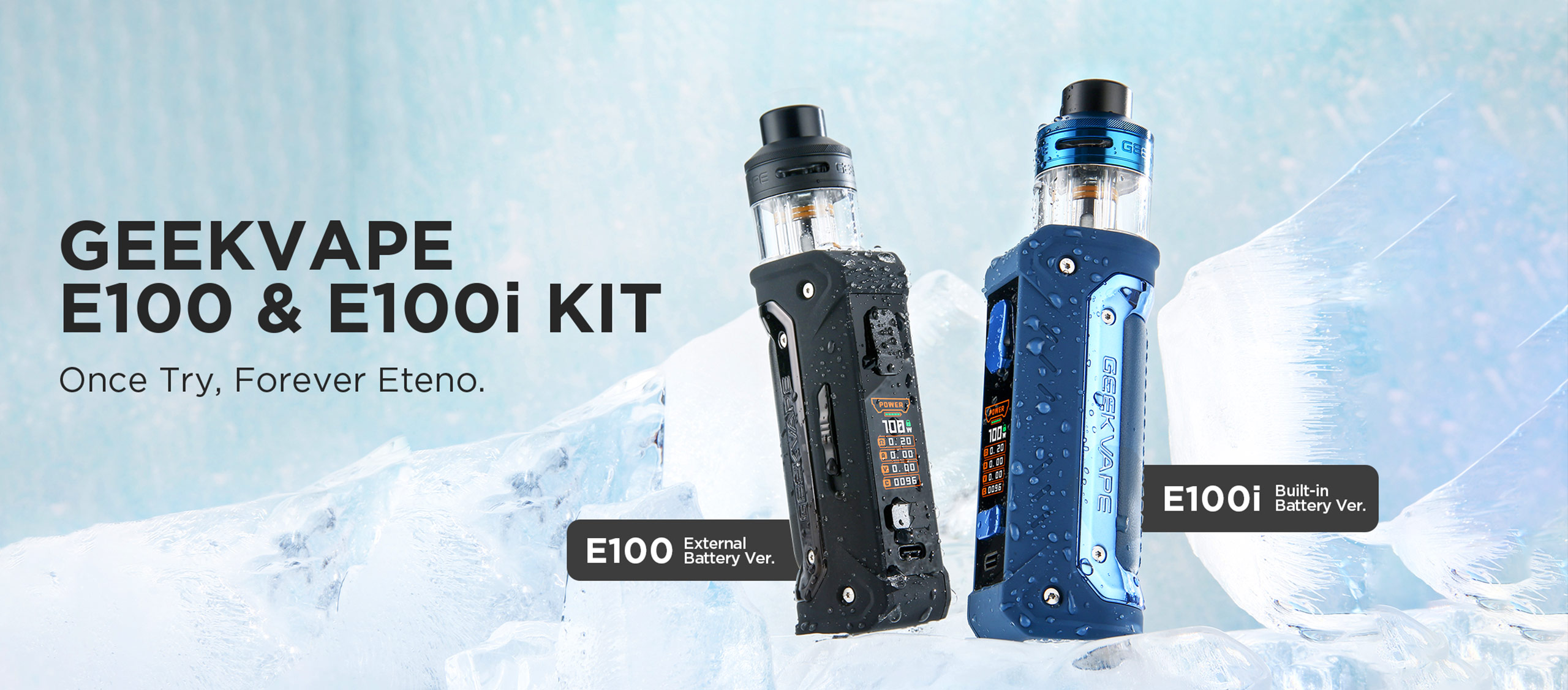 This leakproof pod enhances the vaping experience with an innovative top-to-bottom airflow design and a premium Geekvape P Coil that has a longer lifespan. With the Geekvape E100 top-filling pod, you don't even have to remove it from the device to add e-liquid. You'll also find an adjustable airflow on the top of the pod, which means you're able to switch between a tighter or looser draw. The mesh design of the Geekvape P coils heats e-liquid up faster for improved flavour. For best results, we'd recommend using a 70% VG e-liquid or higher.
The second generation of Geekvape's Tri-Proof Technology makes the Aegis Eteno E100 more compact. Together, IP68-rated water and dust resistance and a higher level of shock resistance give enhanced protection in harder conditions.

Intelligent Working Modes AS-Chip 3.0 AS chipset is a potent source of energy for performing any complicated activities. Automatically pick the optimal output for optimal flavor and set a maximum output level restriction to prevent coils from burning out. In addition, there are several modes for you to decide how your E100 works. Smart mode will select the optimal wattage for your chosen coil, whereas Boost mode delivers the most powerful vape with every inhale. Variable Wattage mode lets you manually select a wattage for a more personalized vape. Using either of the included Geekvape P Series coils will create large amounts of vapor, but the 0.2 Ohm coil will produce a bit more vapor than the 0.4 Ohm option.

Geekvape Aegis E100 is powered by an external 18650 battery while E100i is powered by a built-in 3000mAh battery. Both can provide up to 100W of consistent output. With a 510 magnetic adapter, this highly compatible pod can be swapped from pod to tank with ease. The 510 adapter is not included with the E100 kit, but it is available for purchase separately.

Specifications:
· Dimensions (with pod attached): 134.50 x 33 x 39.56mm
· Vape juice capacity: 4.5mL
· Coil resistance of Geek Vape P Series Coils included:
0.2 ohm - 60-70W
0.4 ohm - 50-60W
· Coil material: mesh KA1
· Pod material: PCTG plastic (BPA-free)
· Output power: 5-100W
· Battery: 18650, replaceable - not included
· Stunningly leak-proof design with top airflow control
· IP68 rating
· 1.06-inch color OLED screen
· Intelligent modes on AS-Chip 3 (SMART / POWER / BOOSTING / VPC / TC-NI / TC-TI / TC-SS / TC-TCR)

Package includes:
· GeekVape Aegis Eteno E100 Mod
· GeekVape E100 Replacement Pod (4.5mL) with P Series 0.2-ohm Coil (60-70W, pre-installed)
· GeekVape P Series Coil 0.4 ohm (50-60W)
· Coil tool
· Spare parts pack
· USB Type-C charging cable